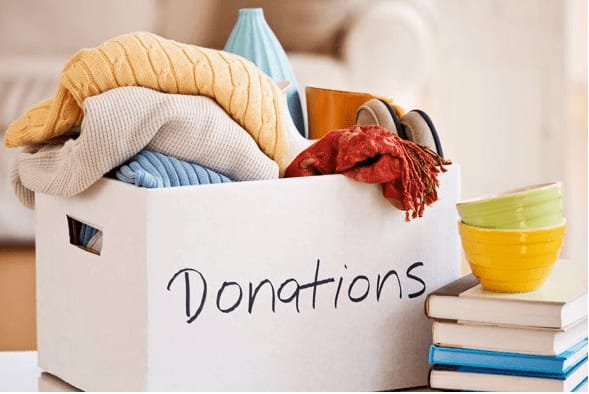 1. Amvets
Amvets offers critical support to disabled and at-risk American veterans. Amvets caters to veterans who are currently serving, or who have honorably served in the U.S. Armed Forces from World War II to the present, including those in the National Guard and Reserves.

Amvets accepts charitable donations of clothing, household items, furniture, and shoes. To donate your lightly used and good-condition items, schedule a free pickup with Amvets. Schedule a Pick-Up.
2. Big Brothers Big Sisters
Big Brothers Big Sisters is the nation's largest donor and volunteer-supported charitable network. The mission of Big Brothers Big Sisters is to support the social, emotional, and personal development of kids in America through a partnership with a volunteer "Big Brother" or "Big Sister."
Big Brothers Big Sisters accepts a wide variety of items, including gently used clothing, household items, books, DVDs, small toys, and more. View their list of acceptable donation items online and then schedule your free pickup with your local branch. Big Brother Big Sister Foundation.
3. Family Thrift
Family Thrift Center has a location in Boston, and partners with Vietnam Veterans for America to pick up new and gently used clothing, household items, and furniture. Contact (800) 775-VETS (8387) to get started or simply schedule your pickup online. Family Thrift Center.
4. Habitat for Humanity
Habitat for Humanity helps people improve and repair their homes and neighborhoods by offering low-cost home goods, advocacy, and volunteers. The organization accepts donations of home goods, building materials, and vehicles. Acceptable items include gently used appliances, furniture, household goods, building materials, and more.

To donate to Habitat for Humanity in the Boston area, visit Restore's website. While you can drop off your goods directly, ReStore also offers local moving help for free donation pick-ups for your convenience.
5. The Salvation Army
The Salvation Army World Service Office (SAWSO) is dedicated to improving the health, economic, and spiritual conditions of the poor throughout the world where The Salvation Army is active. Since 1977, SAWSO has helped people help themselves through sustainable programs that improve living conditions, combat the spread of disease, raise skill levels, increase productivity, and instill self-confidence.

The Salvation Army accepts donations of furniture, household goods, appliances, clothing, and more. Commonly donated items include clothing, furniture, cars, household goods, and small appliances. View the complete list of acceptable items and schedule your free donation pick-up. The Salvation Army.


6. Society of St. Vincent de Paul
Society of St. Vincent de Paul is a local organization that provides free and low-cost services to the homeless and at-risk populations in our area. The group accepts donations of lightly used clothing and small household goods. Call
1-800-675-2882
to locate a drop-off bin, or to schedule a free pick up for your items.
It's often difficult to part with household items, furniture, and clothing – some have sentimental value and some we liked enough to buy. Spring into action and donate! It's a very nice feeling to donate to when you know they're going to help someone in need.